Priscilla Durden
November 2008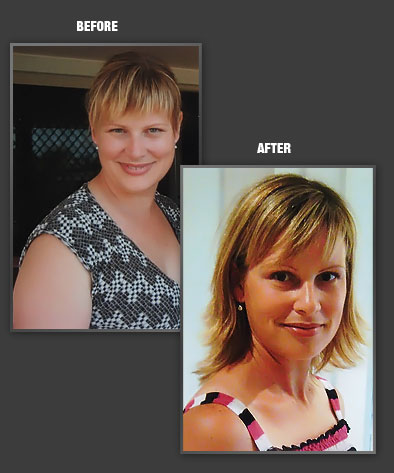 I was so sick of feeling uncomfortable in every aspect of my life.
Yo-yo dieting, being overweight, part time motivated & full time frustrated.
Sugar was my evil friend and was always dragging me down, the more I ate the more I needed! It was a vicious circle, no matter how much I wanted to eat healthier and be lean it seemed impossible and overwhelming.
After delivering my first child I ballooned up to 110kg. My healthy weight is around 75kg
With no conceivable way of controlling my weight or getting my head around it... until...
By following the "Think Slim Be Slim" programme by Martin St. James. Before I used "will power" which was almost no power. Now I have "knowledge power" thanks to following the programme.
I walk 5 to 6 days a week, 40 minutes minimum at a good steady pace. I've always been a walker, I love it.
I am so grateful I have control of my life and no longer have cravings or emotional eating moments / days. I will never be overweight again no matter what happens.
It's so easy to be commited to being a healthier and happy me. I know I will always be a healthy weight, my body has found its own pace. I love feeling light and graceful, it's the ultimate success being at my goal weight.
I am hungry for life - I am proud to be me.
Thank you is an understatement of how truly grateful I am to Martin St. James Mind Wellness Centre.
Priscilla
---
From: gwyneth markiewicz
Sent: Thursday, 27 July 2006 11:45 AM
To: martin@martinstjames.com
Subject: Smoking

Dear Martin

This is just another letter of thanks that you must receive on a very regular basis.

I had smoked for 27 years and had "graduated" to 35 ciggies a day, that was until I came to see one of your hilarious shows and bought your tape for quitting smoking. I must admit that I was a bit sceptical that anything would work without a lot of self control, as you state on your tape, but after several attempts by myself to kick the awful habit, I was prepared to believe that you could make a difference.

I listened to the tape for 6 nights only !!! That was all it took for me to be able to do what you assured I could do, give up smoking.

My husband and daughters can attest to the fact that I didn't even turn into the testy cow that I usually did when attempting to give away the ciggies !! That was 15 years ago and I haven't had a single cigarette in all this time.

I work in a Woolworths Supermarket Office and every year for 8 weeks, we raise money for our "Care for Kids" Project, which is donated to The Royal Childrens Hospital in Brisbane. As a bit of a lark, I asked people at work to sponsor me per day that I didn't have a cigarette. Well, they all thought that was such a joke that I raised over $400 !!

Thank you so much for the wonderful gift you have in making such lifechangeing differences.

yours very sincerely
Gwyneth Markiewicz

I would like to take the opportunity to inform you of the great success I have achieved utilising the Martin St James Stop Smoking Program. During the past thirty years, I have attempted to stop smoking several times but have not been able to find an effective method until now. From the very first time I viewed the SRC video in October 2002, I have not had the urge to smoke. I continued with the recommended 21 day audio program and am now confident I will continue to be a non-smoker.

Masaji Kitagawa
Chairman Grand Prix Group
Osaka, Japan
---
In training for a tough fight, especially on the last week when my nerves are playing up it's hard to sleep. By not sleeping I am burning up a lot of energy. By the time I step into the ring I already feel tired. Martin made a tape - if I listen to that it makes me sleep like a baby. I started to lose my confidence. I kept thinking there was something wrong. Was this the end of my career? Martin made me a tape to motivate me and now I feel great again.
Lovemore Ndou
Leading super lightweight and next world boxing champion
---
With the help of Martin St James I have been able to improve my focus and relax while under pressure. The benefits have been numerous. I have never felt so relaxed and confident.
Danny McGrail
Australian Lightweight Champion
---
Carol Gordon
School of Motoring
15 Wood Close
LEEDS 16TH November, 1980.
Dear Mr St James,
This week, on 20th November, 1980, it will be my third anniversary since I stopped smoking at your Merrion Centre in Leeds.
I would like you to know that a t 2.00pm on 20th November, 1977, I visited the clinic. At the time I was smoking 40-45 cigarettes per day. I was a "smoking addict". I would not go to the theatre etc., because I knew I was not allowed to smoke. If I was out somewhere and had only one cigarette left, my mind would not rest until I bought another packet. I had never dreamed that I would ever be able to stop smoking without getting bad tempered or extremely moody - in fact I only went to see what would happen.
The result was absolutely astounding:-
I have never smoked a cigarette since
I only visited the Clinic three times
I feel 100% healthier and no longer get puffed when running about.
I have worked out that I would have spent more than 1,092 pounds over three years on cigarettes, that is at 1977 prices. I believe there has been a high increase since then.
So Mr St James, may I take this opportunity to say thank-you for changing my life and pocket with side effects.
I now look forward to slim at the centre.
Thank you once again, I am
Yours sincerely,
Carol Blakey
---
Cedarlyn
59 Tulip Road Awsworth Nottingham 8th October, 1980.
I found the slimming course at the SRC Centre most enjoyable and beneficial.
After years of trying to lose weight, through this course I have begun to succeed. Plus the weight loss, it has been of benefit to my nervous system. I have previously suffered nervous break-downs. I found this course relaxing and worth the cost.
I would recommend it to anyone. I was really in despair when I commenced the course.
Many thanks,
Mrs M Thornley.
---
---
80 Knowle Avenue
BLACKPOOL 17th July, 1979
Dear Martin St James,
I have been coming to the SRC Centre for a month now, and I am very pleased with the results, as I have lost over a stone in weight.
Before I came to the centre I felt very depressed and uncomfortable in company, as I was so overweight. Besides losing weight I feel great, confident, and at ease when I am with my friends. I am sure that anyone else who would like to lose weight will be successful by coming to the SRC Centre.
I would also like to thank Julie, Lesley and Janet for their kindness and for being so helpful. It was a pleasure coming to the centre. Thank you once again.
Yours sincerely,
Mrs M Fearnley.
PS: It was worth the 4 week course and money well spent.
---
Cedarlyn
59 Tulip Road Awsworth Nottingham 8th October, 1980.
I found the slimming course at the SRC Centre most enjoyable and beneficial.
After years of trying to lose weight, through this course I have begun to succeed. Plus the weight loss, it has been of benefit to my nervous system. I have previously suffered nervous break-downs. I found this course relaxing and worth the cost.
I would recommend it to anyone. I was really in despair when I commenced the course.
Many thanks,
Mrs M Thornley.
---
Dr. A. W. Allen
47 Austhorpe Road
Crossgates
Leeds LS15 8BA
25 Jan. 1979
Re: Mrs June Earl
Dear Mr. St James,
Firstly, I am delighted that you have succeeded in stopping Mr. And Mrs. Earl from smoking. I hope to meet you sometime as we have about 5000 other smokers on list!
Mrs. Earl needs to lose some weight for her pregnancy and of course will need a balanced diet with sufficient protein. She is on Iron and folic acid supplements.
Yours sincerely
AW Allen
---
R Rooney 15th May, 1979.
I wish to thank you and your staff for the help given to me on my conditioning of the SCR Centre.
After smoking over 29 years, an average of 60 cigarettes a day, at the cost of 15 pound per week and having tried other hypnotherapists, this was my last hope and I am glad to say it worked.
SRC and a bit of commonsense is all one needs.
Many thanks,
R Rooney
---
31 Teal Road
Darlington C/- Durham 5th October, 1979.
Dear Mrs Kenderdine,
Further to my visit last Friday, I am pleased to inform you that I am still not smoking and getting better every day.
In fact the need to smoke has almost gone and I would certainly endorse the advice about eating fruit and Vitamin C, this seems to help a great deal. Apart from helping to stop smoking, the ' side effect' of a healthy diet and feeling much fitter should be emphasized.
Food certainly tastes much better and my appetite has never been better. My weight has stayed the same so far, so perhaps this will not be a problem.
Full marks SRC, keep up the good work.
Yours sincerely,
I.R. Stones.
---
405 Brighton Road
South Croydon 18th May, 1981
Dear Pamela,
Although at first I was very doubtful of your system, I must now say that I am very pleased. Your SRC has stopped my smoking after 35 years without any bother.
---
14 Teall Court,
OSSETT
West Yorkshire. 29th April, 1981
Dear Sir,
Two and a half years ago, after 15 years of smoking 20-30 cigarettes per day, I visited your clinic in Wakefield and have not smoked a cigarette since.
Since this new-found health, I have taken up the sport of bodybuilding with some success, being Lincolnshire Champion 1980 and runner-up in the West Yorkshire Championships 1980.
Increases in muscle size can only be achieved by increasing the intensity of work which is placed upon a muscle, ie., either progressively lifting heavier weights or carrying out an exercise more strictly. To make muscle gains it is however essential to take oneself through the so called " pain barrier " so that more muscle tissue can be torn and replaced.
However, the mind unfortunately tells the body that it can no longer stand the pain before the muscle is in fact exhausted. Much more improvement could be made to my physique if the pain barrier could be lifted by some method.
By using your anti-smoking tape, visualization of the spiral and the key word, it is possible for me to reach a state of deep relaxation (self hypnosis).
Bodybuilding magazines are advertising self hypnosis tapes which are claimed to do the following: · Motivate people to train hard with weights · Progressively increase the weights used · Carry out exercises in strict form · Lift the " pain barrier" so the muscle will continue with an exercise longer before the mind tells the body to stop.
As I am most receptive to your voice patterns, key words etc., I wonder if it would be possible for you to design and produce for me a tape of this kind.
If so, could you please indicate what this would cost.
Yours sincerely,
Barry F.
---
11 Second Avenue
BRADFORD WEST YEOKS 11TH July, 1978.
Dear Martin St James,
Having smoked very heavily since 1948, I did not believe that I could stop smoking. I attended your SRC Centre for the first time on March 20th and have only tried one cigarette since. I was so revolted by the smell and taste that I put it out and have not had a cigarette since.
I tell all my friends and acquaintances how I stopped and will continue to do so. O attended your Leeds Clinic.
Thank you very much for your help in giving me the will to stop smoking without pain.
Yours sincerely,
Barbara King.
---
"The nagging irresistible physical desire to have a cigarette had gone."
Paul Keers (Journalist Cosmopolitan Magazine London)
---
5 Meadway
BLACKPOOL 29TH August, 1979.
Just a word of thanks to all of you at the SRC centre. Both Myles and myself have stopped smoking completely after the second visit.
We can hardly believe how much better we both feel, and we are amazed at how easy the therapy made it for us to stop. Playing the tape each day at first was a great help, not to mention a welcome ½ hour relaxation.
We will recommend your method to anyone who wishes to stop smoking.
Many thanks once again and good luck for the future.
Yours faithfully,
SUSAN COWENS
---
264 Green Lane
CLIFTON
NOTTINGHAM 31ST October.
To Martin St James,
I bless the day I saw your advertisement in the Evening Post about the SRC Centre. After trying all the usual slimming methods from club to calorie counting, all unsuccessfully, I rang up your centre in desperation. The price put me off at first, but my husband urged me to go, and in fact treated me. He knew I was very miserable as my weight continued to rise and my health deteriorated. I was full of indigestion, my legs and feet ached, I had a very chesty cough, no energy and not many clothes that still fitted.
However, after the first session, I began to feel more confident and cheerful, could ignore my weaknesses (biscuits, cakes and chocolate) and continued to feel that way permanently. I weighed twelve stone seven pounds in March, and was 41-36-46, size 22. I now weight nine stone seven, my measurements are 35-27-37, I wear size 12 tops and dresses, and size 14 jeans which I have never worn before. I saved the $35 pound easily on the rubbish I ate between meals. Martin St James and SRC Centre changed my whole personality from giving in to positive enjoyment of life.
Not bad at fifty four.
Sincerely,
Mrs Millie Mills.
---
At the end of this course, I was very pleased to have lost 10 ½ lbs. This may not seem a lot to people who don't have a weight problem, but believe me it certainly feels great.
After one month away from the centre I payed them a visit and they weighted me and I hadn't even put on a pound - which isn't bad seeing as I hadn't stuck to any diet but had just eaten sensibly.
(April 30th 1981 Taxi - London. written by Josie Murphy)
---
Back to the Top